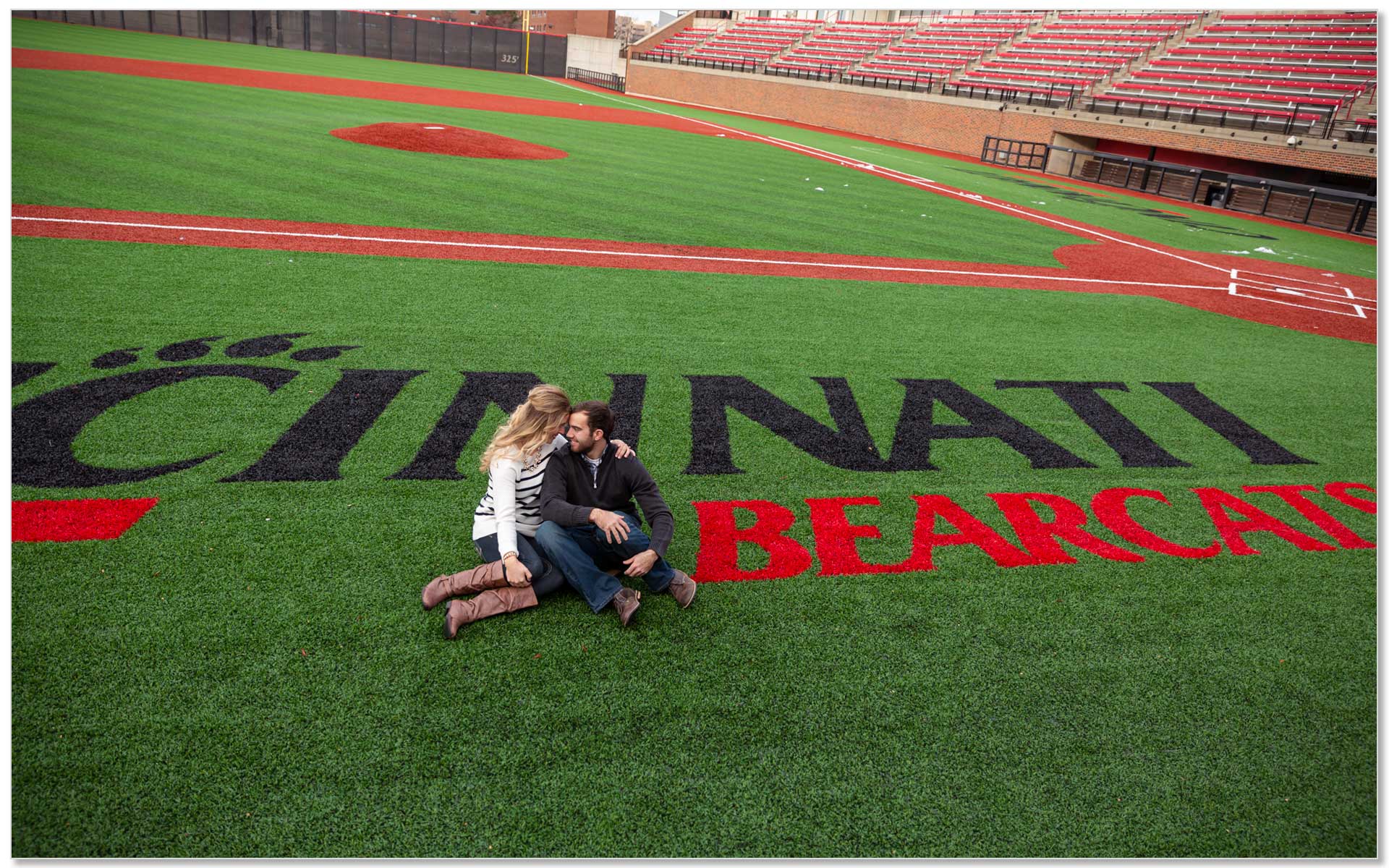 University of Cincinnati Engagement | Cincinnati Wedding Photographers | Emily + Matt
University of Cincinnati Engagement
Today I photographed Emily and Matt's University of Cincinnati Engagement today as an After Dark session. Emily and Matt both went to UC. Matt also played baseball while at UC and I just happened to snap this image of the baseball team's 2013-2014 schedule outside the Marge Schott Stadium. As it turns Matt was prominently . He is the player on the front with the ball and glove.
Emily said that she spent a lot of time in the stands watching Matt play and it was only appropriate that we included the baseball elements into the engagement. We spent about an hour at the stadium and then went to Roebling Bridge in time for a great sunset. At the end we finished up on overlooking Downtown Cincinnati and the Great America Ballbark from the Riverside Dr area of Covington.
We look forward to photographing their October 2015 wedding at Music Hall in Cincinnati. Here are my favorites from the day.
University of Cincinnati Baseball Team Schedule Marge Schott Baseball Wedding Engagement University of Cincinnati Engagement at baseball stadium Marge Schott Baseball University of Cincinnati engagement pictureMarge Schott University of Cincinnati Baseball engagementUC baseball dugout engagement picture University of Cincinnati Engagement Save the Date picture UC baseball engagement coupleBearcats Cincinnati Baseball Engagement  Engagement ring on save the date baseballUniversity of Cincinnati Engagement at Baseball StadiumSave the Date Baseball Engagement in CincinnatiUniversity of Cincinnati Engagement ringUC baseball engagement save the date pictureEngagement couple at UC baseball stadiumEngagement couple at University of CincinnatiEmily and Matt at University of Cincinnati EngagementSunset Cincinnati engagement overlooking Paul Brown StadiumEngagement on Riverside Drive in Covington KentuckyRoebling Bridge Cincinnati EngagementRiverside Drive Covington Engagement pictureCincinnati Engagement at Roebling Bridge CincinnatiOff Camera Flash at Roebling Bridge Cincinnati EngagementDowntown Cincinnati Off Camera Flash Engagement